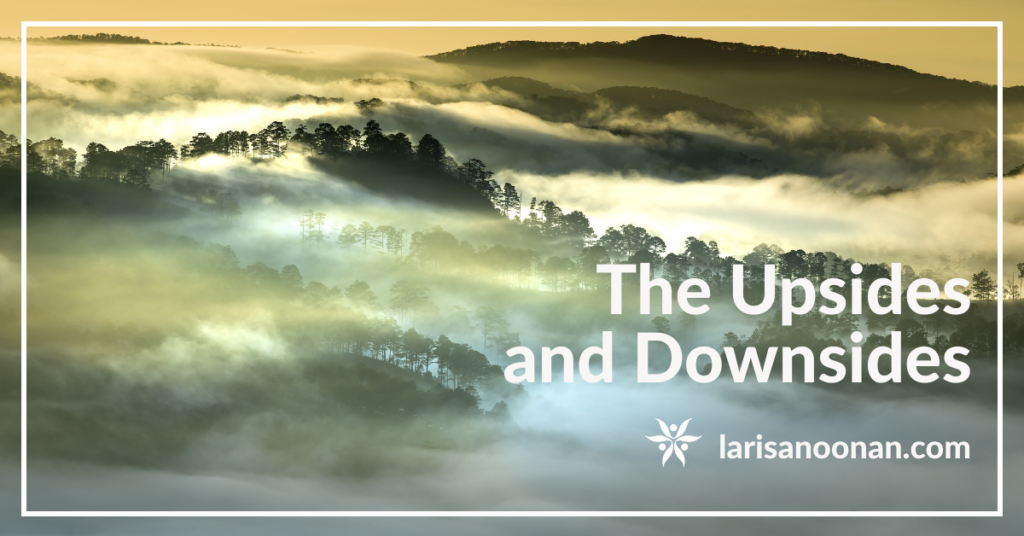 Today I bring you the 5th installment of the Journey of the Witchy Healer in which I explore the upsides and downsides of both the fog of life and the smokestacks of trauma.
If you are new here, I highly recommend reading (at a minimum) the Fog of Life before proceeding to read this one. That article provides context for just what makes up the fog of life.
Ok, with that said, here we go. 🙂
UPSIDES of the Fog of Life (where the unseen touches the seen)
Fog is not always bad.
Sometimes it can be a blessing.
But a blessing in two ways: first it can be a blessing to us and second, it can be a blessing to the one we are approaching. The world is full of precious things. If we approach them poorly, our approach can damage them. If we approach them poorly, we can be damaged too. This is why they are often hidden.
There is a way in which mist or fog is often used to conceal/obscure what is most precious or sacred. Avalon, for instance, being hidden in mist and only accessed if you knew the secret pathways or had a guide. Or Jesus speaking in parables. Or Mystery Schools teaching in codes. Indigenous stories and folk tales being rich in images that could be understood on many levels.
The shrouding of things can be a form of courtesy so as not to impose things on people before they're ready for them.  We live in a neon-lit world where we demand that everything be illumined to us whether we are ready for it or not. Fog allows us to take our time, to approach slowly and with reverence as needed.
From another perspective, clouds can be a mercy on a hot day; fog brings needed moisture to the plants, birds and insects.
DOWNSIDES of the Fog of Life (where the unseen touches the seen)
When living in a culture without true human elders or medicine people nor consistent access to wise, benevolent guides in and of the unseen realm, even the naturally occurring fog of life can feel like or become a burden or source of trauma in and of itself.
It can be easy to become disoriented, confused, frustrated.
There can be forces within the fog that are both beneficial and detrimental.
Without trustworthy protectors and guides plus proper discernment, it can be easy to either become frozen in paralysis or to slip ever deeper into forgetfulness (of who you are; why you are here on earth; how/why you came to be in the fog in the first place).
As not all spirit contact is beneficial and not all those in the unseen world have your best interest in mind, the voices whispering and calling to you can lead you to places that aren't where you actually want to be or you can end up doing things that aren't yours to do (or that are out of integrity with your soul and your purpose).
In short, it is a risk to walk in the fog of life. Both danger and healing abound; trustworthy guides and discernment are need.
UPSIDES of the toxic smokestacks (unresolved trauma)
I don't know if there are any upside to these smoke stacks themselves but, the healing, resolving, and dismantling of a smoke stack often leads to more wisdom, more gravity/humility, more self+other compassion, and an increased ability to tolerate complexity and nuance.
There's a wisdom that comes on the other side of making mistakes or experiening trauma that is different from never having made the mistake or experienced the trauma.
There's a wisdom that comes from harming another and then learning from it, from taking the wrong path and then finding the right one.
There's the wisdom of prodigal sons and daughters that is different than the wisdom of those who never left.
The pain that results by living in the toxic fog shows us where we are out of balance with the natural world, with the unseen realms, with ourselves, with others, and can lead to reconciliation.
So, in a sense the toxic fog is more of a symptom than the actual problem.
DOWNSIDES of the toxic smokestacks (unresolved trauma)
We inherit a fearful and upright culture: the smokestacks spewing out toxins and pollutants (unresolved trauma) are one of the main reasons why we are so rooted, as communities and cultures, in polarization, dominance, controlling, rigidity, us vs them, inability to question the dominant (anything) without fear of punishment, etc.
We feel awful daily: When living in such a culture or community we tend to feel isolated, invisible, overwhelmed, afraid, anxious, lonely, depressed, apathetic. There is often an experience of heaviness, contraction, and/or ongoing chronic pain in the physical body along with an underlying sense of confusion, dread, sadness and grief. There is a predominant sense that, on some core level, we don't belong, that we are wrong or broken in some perhaps undefinable way.
The smokestacks of trauma disconnect us from our bodies. The pain of the trauma lives in your body; of course you don't want to be in your body! it's painful there! Healing occurs as you resolve the trauma both in your body and in your lineages (because so much of the trauma we carry in our bodies isn't just from our own lived experiences). As the trauma resolves, we are able to more fully inhabit our bodies, trust what we sense through our bodies, and feel our interconnectedness with all of life through our bodies which are also of the earth.
Stops the living from being able to engage the benevolent unseen realms consistently or to receive/trust guidance other than the current cultural dominant narrative.
It stops us from accessing sources of protection and power that would help us feel safe standing in our own knowing/truth/power.
Our world becomes very small. Yes, small is beautiful and, our soul's desire is healing, expansion, adventure, to see others and to be seen. When our world is constricted by trauma, we feel tight/tense/constricted/contracted/fearful. This is a different internal experience from when something is fully self-expressed and is also small (like a snail shell or an arnica flower or a filament of moss).
Trauma blocks both us as individuals and as cultures from honoring/respecting/living in harmony with the natural world and unseen realms. Further, as the trauma/fog accumulates over generations, it spreads out – influencing/creating/changing the culture. The unresolved trauma is definitely in the Witchy Healer as well as in their surrounding communities and the culture at large. It also spreads out into the natural and unseen worlds in the forms of resource extraction, disconnection from earth, habitat destruction, monotheism, etc.
UPSIDES of both (where/how they overlap)
Both the Fog of Life and the Toxic Smokestacks can…
…provide a sense of safety for a while – and maybe actual safely (I can't see you; you can't see me),
…be a fog of forgetfulness of the things that are, for a time, too hard or painful to remember.
…stop us from our incessant, over-achieving movement and make us sit down for a while and rest.
…feel comforting. If fog is all we've known, there is familiarity and comfort to be found in the fog.
…lead us into deeper relationships with our sacred selves and are portals into the sacredness of life itself.
DOWNSIDES of both (the downsides they share)
Being shrouded in fog is hard, confusing, frustrating regardless of the source (fog of life or toxic smoke stack)
We lose trust in ourselves. We tend to distrust our own inner guidance, our intuition, and the messages from our bodies and instead turn to those in charge (often, but not always, white men) for guidance and direction.
You can accidentally run into things that could hurt you (e.g. a rock, a lion, step off the edge of a cliff, get into dangerous situations with non-trustworthy people in general). Because of this, we often, eventually, stop moving entirely.
It is cold and wet. It can chill you to your bones.
You can lose any sense of direction – not even being able to see where the sun is.
It stops you from being able to see clear and far and so you can't make a plan of how to travel or where.
We stop experimenting and taking risks. Safety and comfort are one kind of medicine we need when healing but danger, risk and stretching are others. While lost in a fog we only have access to part of the medicine we need.
We can often feel confused, in a haze, unable to think clearly.
The fog confuses the living and creates conditions where it is easy and seems desirable to destroy the habitat/homes of our other-than-human kin for profit, where we feel superior to all other forms of life, where complexity/nuance is lost in favor of a black/white view of the world, where women/the earth are seen as lesser and to be controlled, dominated, subjugated.
The fog stops you from knowing/feeling that you are a part of something greater than yourself… from being able to feel how you are also of nature and an integral part of the greater web of life.
The fog stops you from accessing that underlying sense of safety and belonging that stems from being in relationship with the earth and your other-than-human kin. Instead, less functional patterns that seek to restore some sense of safety, often through dominance and control, set in.
In conclusion
To be delivered into the world witchy healers must leave that safe womb of the fog they were born into and be borne out of it.
Yes, it might be enjoyable and even important or necessary to just sit in the fog, but eventually, the fog will feel cold and confining. We will desire a more clear and expanded sense of both ourselves and the world around us.
Eventually our soul will compel us to seek experiences that have the potential to heal or expand us in some way (to increase our capacity to love, forgive, be seen, hold space for all aspects of ourselves and others, hold greater complexity and nuance).
And yet, in order to exit the fog, we need trustworthy guides. Who are those guides? That's where we're going next.
Until then… <3