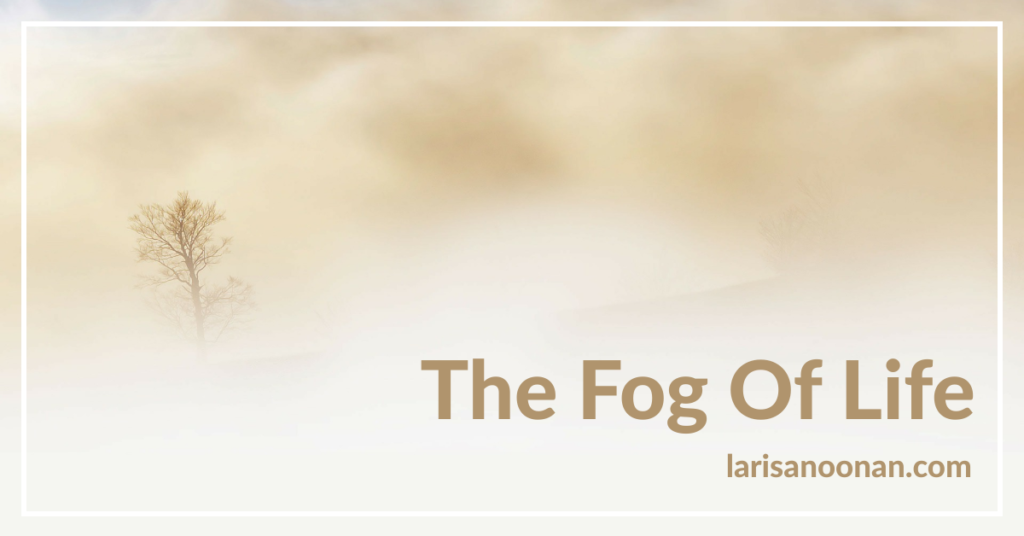 Most of us wander around in a thick bank of fog.
And maybe it's always been that way for humans. Perhaps things haven't ever felt totally clear for us.
Life is just mysterious and weird sometimes. And maybe in human life, the fog never really fully goes away.
And yet, we want to see clearly; we want to have a clear sense of who we are, why we're here, where we are going. And so, we try many things. We try various healing modalities, we try meditation, exercise, changing our diet.
And still, the fog remains.
Then, we hear about some new modality that is certain to clear the fog. Perhaps, for you, it is learning about ancestral healing work and how intergenerational trauma can be resolved, they/you can be healed, and you can see/know/live the life you are here to live. Sounds pretty great, right?!
However… what if…
…clearing away all of the fog is not the goal of ancestral healing (or any healing work perhaps)… ie: no fog, no clouds, no mist.
What if… even when the ancestors are well, some fog remains.
What if… the fog has its own role.
What if… the 'mist/fog' is where the unseen realms touch the realms of the living.
When our ancestors are unwell:
Our ancestors, when unwell, are a part of and contribute to the denseness/vastness of the fog and make everything more difficult, more painful. In my experience, this is very true.
When our ancestors are well:
On the other hand, when our ancestors are well, what is 'fog' to us is simply their world touching ours. Essentially, they have access to both the seen and unseen worlds and can guide us through the mist and naturally recurring fog/trauma of life (we'll talk more about this next week) as well as through the remaining fog/trauma of the collective unwell ancestors + fundamentalist culture we still live in.
Plus, when well, our ancestors are our ambassadors to the natural/unseen worlds, forging connections, guiding us in relating well with these ones, translating messages and guidance and bringing through the healing/resources needed for us and our kin (both human and other-than-human).
They help us find the best manner of approach to the sacred things of the world (and it's all sacred) by taking us on the secret pathways to the encounters that are needed for our healing/whole-ing and the unfolding of our destiny. They guide us in a way that keeps us safe and keeps what we are approaching safe as well.
Unfortunately…
We are living in a culture (in large part) without true human elders or medicine people who have seen beyond the fog nor consistent access to wise guides (like our well ancestors) who are in and of the unseen realms.
Without elders, medicine people, guides (in both the seen and unseen realms) the natural fog of life feels becomes a burden and is a source of trauma in its own right (more on this later).
The smokestacks of trauma.
But what can make the naturally occurring fog of life so much thicker and more toxic is the pollution coming from an ever growing number of smoke stacks (more on these next week).
And so we are being blinded and poisoned simultaneously.
Their smoke/pollution intermingles with the natural fog of life leading to confusion and to the belief that all fog is bad. It keeps us from seeing the sacredness in the fog and makes it difficult to know who to trust and to see clearly the path that is ours to walk.
The double edge of this sword is that, in the fog, you can't even see the smokestacks pouring out their toxins into the air. If you could, you would do something about them.
So, the fog is the result of being alive. The pollution thickening the fog is the result of trauma.
That's an overview. I'll be back next week to explore the Five Main Sources Of Trauma (the five smokestacks) of which the unwell ancestors are only one.
Until then… I'd love to hear from you. How do you experience the fog of life? What has been most helpful for you in your healing journey out of the fog of trauma and into the sacredness of life?
And, just replying to say 'hi' is welcome too. 🙂
with love,
Larisa
Photo credit: Epic Images from Pixabay