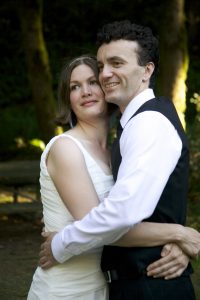 I never wanted to get married, it's true.
And yet, I've always been fascinated with wedding photos.
While I don't seek them out, if there happens to be a wedding magazine readily available, I will pick it up, thumb through it, and either exclaim over or (more often) mock the gowns, the table settings, and whatever decorations may be in place.
Every now and then there would be a wedding (always out-of-doors; generally in the woods) glamorized on some DIY wedding blog and I'd think, "IF I were to ever get married, I'd want a wedding something like that."
Well, I did get married. And now, I want to share it.
So today, just for today, I'm going to pretend that this blog is a wedding blog and I'm going to tell you a bit about our wedding day… with photos!
*Unless noted, all photos were taken by the oh-so-lovely Lorijo Daniels. She's awesome. You want her to take your photo!
Our Vision
We envisioned all of our friends and family joining us to help create the wedding. We wanted the people we love spending the day with us, helping us decorate, cooking food, and just hanging out and getting to know each other.
We know that it is our community that sustains us both as a couple and as individuals and wanted our wedding to truly be a community event.
The Setting:
We held the wedding in the woods at YMCA Camp Collins, located on the Sandy River, right next to Oxbow Park, a park that is dearly loved by both of us.
How it all came together:
Our families did all of the cooking for the wedding feast, our friends showed up early to help decorate and finish prepping the food, my brother married us, Jami did my make-up (so beautifully), and the amazing Emma peeled over 60 apples to make homemade apple crisp which she served hot from the oven.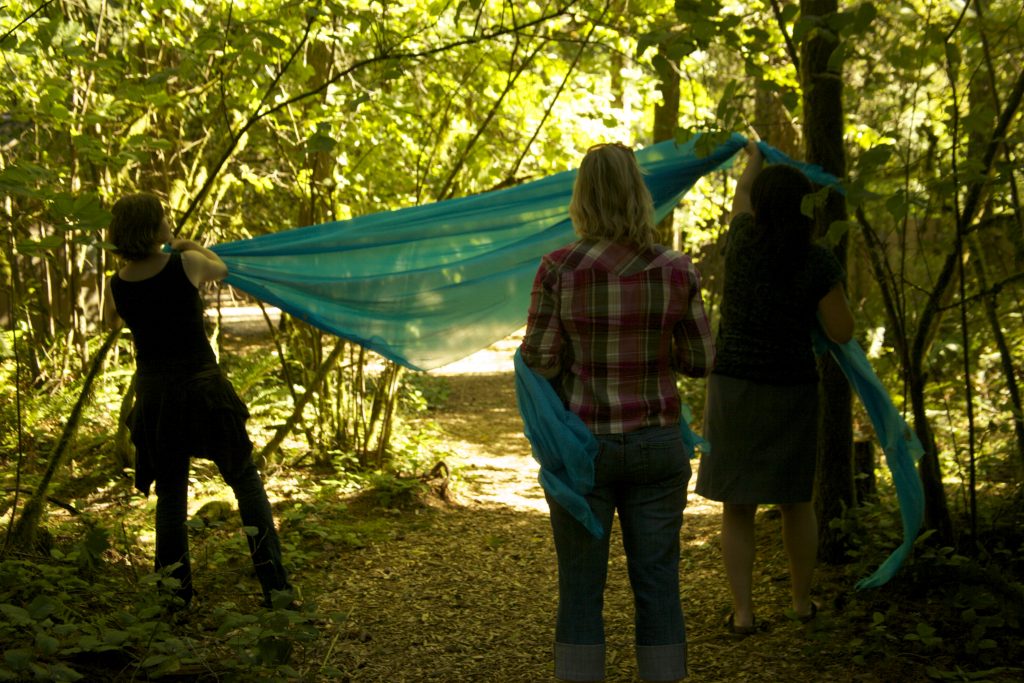 Here we attempt to hang huge swaths of silk I'd dyed gorgeous shades of turquoise.
In fact, over the course of several evenings I had dyed three 10'X55″ swaths of silk, 31 scarves, 25 handkerchiefs, and 27 yards of ribbon. These doubled as decorations and take-home gifts for attendees. Fun!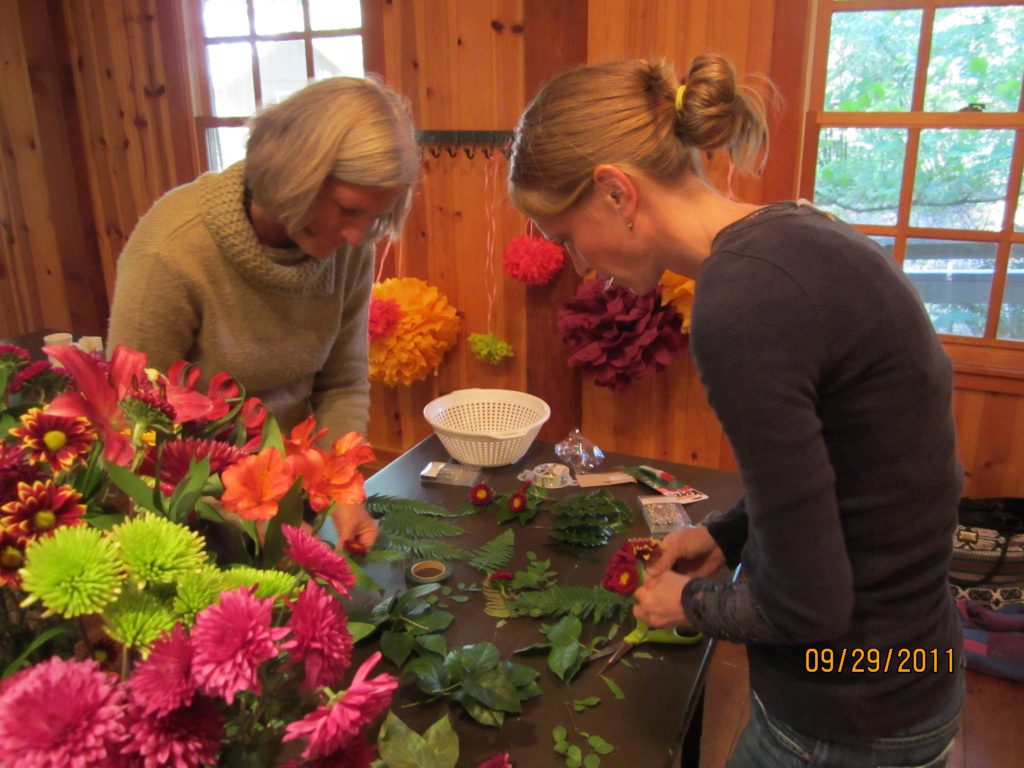 I adore my friends. Here two of them are creating boutonnières and corsages for family members. Check out the super beautiful fern and leaf clippings they foraged. In the background you can see some brilliant pom-poms waiting to be hung. (Photo by Mom).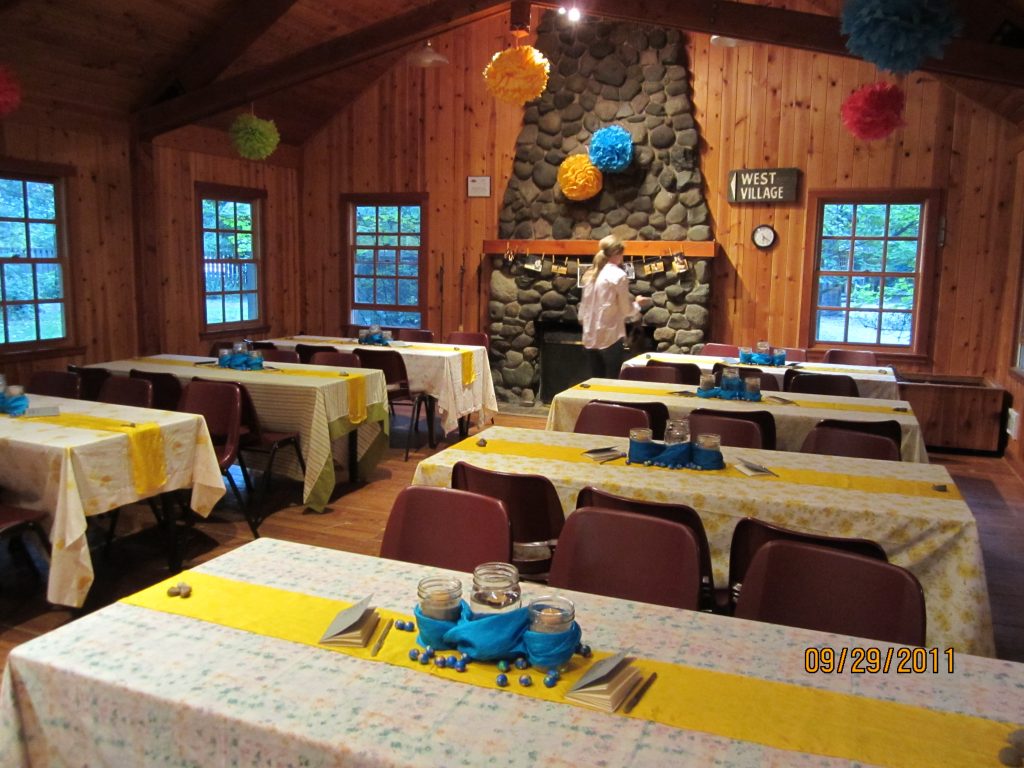 Ah. What would I do without Emily? She provided the lovely vintage tablecloth-sheets. She suggested the pom-poms. She told me what colors to use to complement my turquoise and turmeric obsession. Then, she hand-painted wooden signs for us and sewed me the most awesome Owl in the world (Photo by Mom). Hot damn!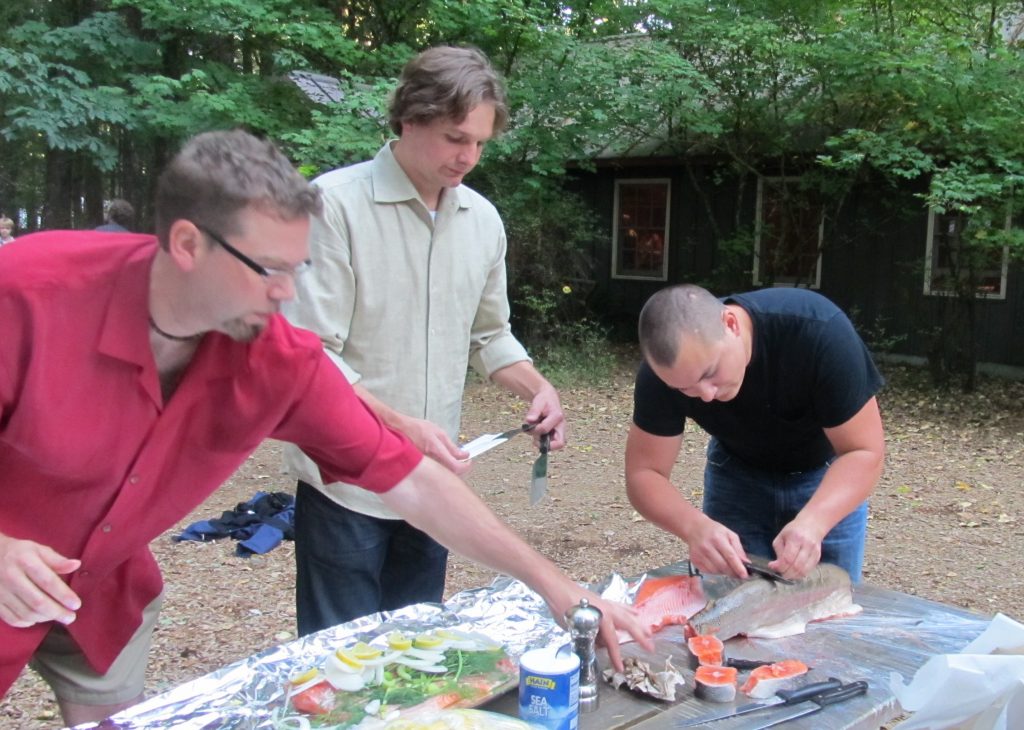 Earlier that morning, my dad, brother, and brother-in-law headed out on a secret mission to Cascade Locks to procure freshly caught wild salmon from tribal fishers. That evening, they grilled up four HUGE salmons – the best ever eaten. 🙂 Photo by Dad.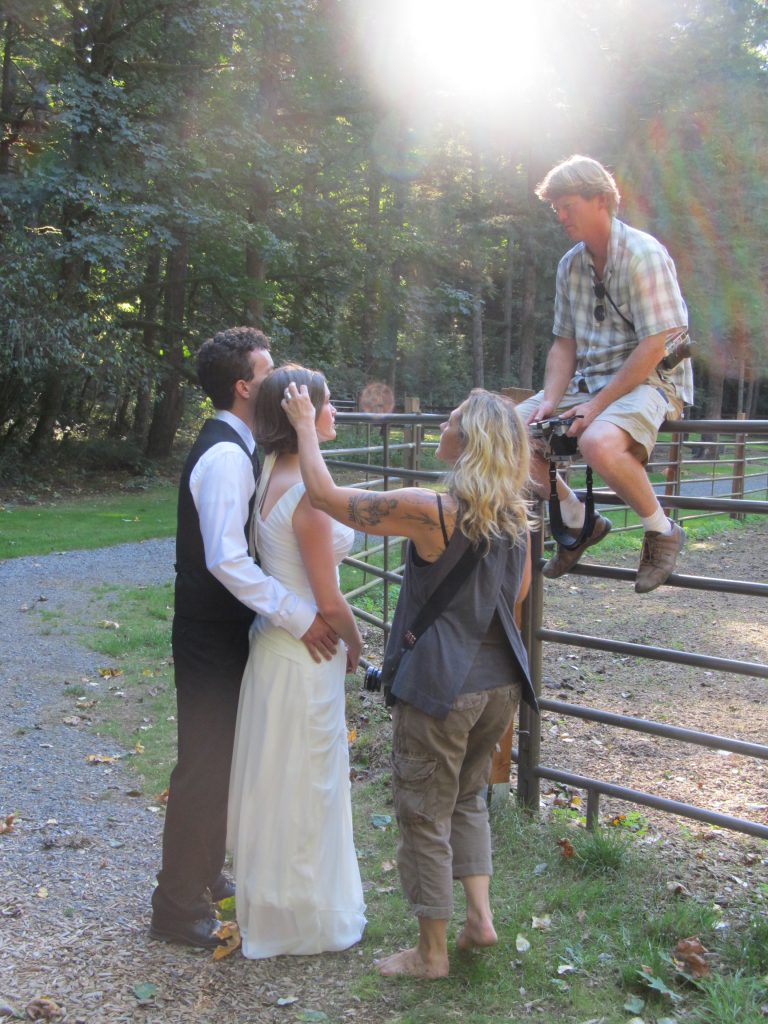 This is one of my favorite photos. It's meta! Lorijo is fixing my hair. Tom, who takes absolutely incredible black and white film photos, is patiently waiting. Photo by Dad.

The dress! Everyone wants to know about the dress, right?!
Well, if you happen to have a difficult to fit figure like I do, Cocoon Silk on NW 23rd Ave is the only place to go for the most amazing dress you'll ever wear.
They specialize in custom made gowns created from spectacular, handmade Cambodian silk.
Savonna and his staff will personally help you choose the style that will best suit you (and your circumstances) and then make certain it fits you perfectly.
I wanted a dress that was flow-y and fitted, that wouldn't take up a lot of space, that would be easy to wear and fun to walk and dance in. I totally got it.
I hate shopping (I always end up feeling like a freak because nothing ever fits me correctly) and yet, I loved every moment of my time spent at Cocoon Silk.

The Ceremony:
The ceremony was brief, sweet, and perfect. My brother officiated. The Mukluks played beautiful music for us. A hawk soared overhead.
Note: check out how dashing my soon-to-be-husband looks in his perfectly tailored vest and pants (also from Cocoon Silk).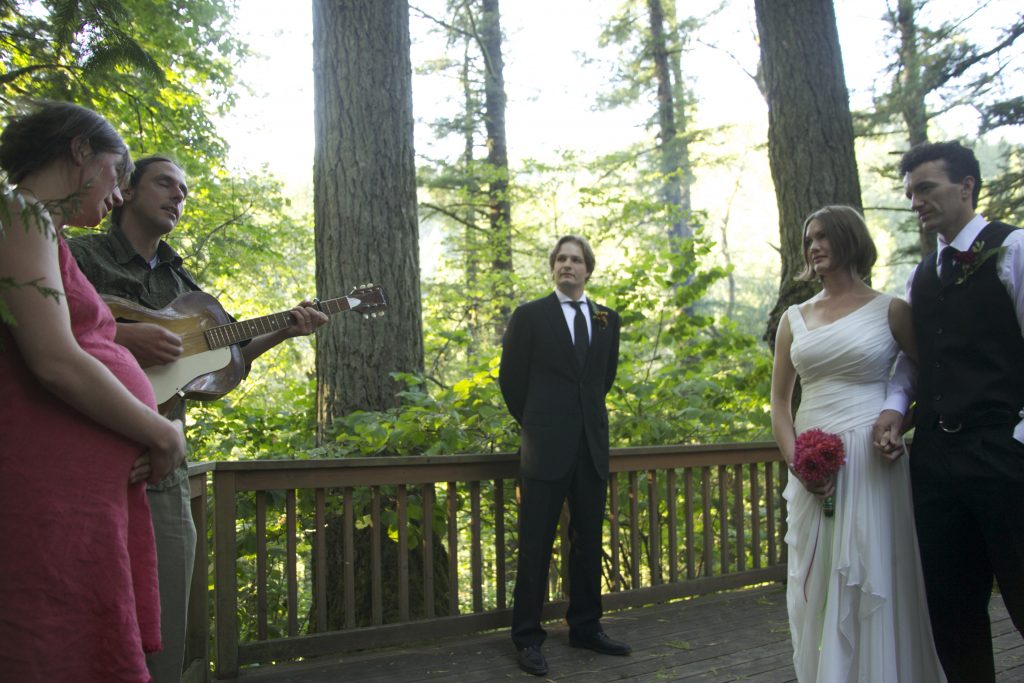 The Mukluks – Peter and Monique.
Yes, Baby Mukluk is on the way! Very soon. Please send blessings and well wishes their way. Thank you.
Also, The Mukluks just released their first two singles. They are awesome. And, I'm not just saying that because I happen to be fortunate enough to be friends with them. I'm saying that because they are. Awesome. 🙂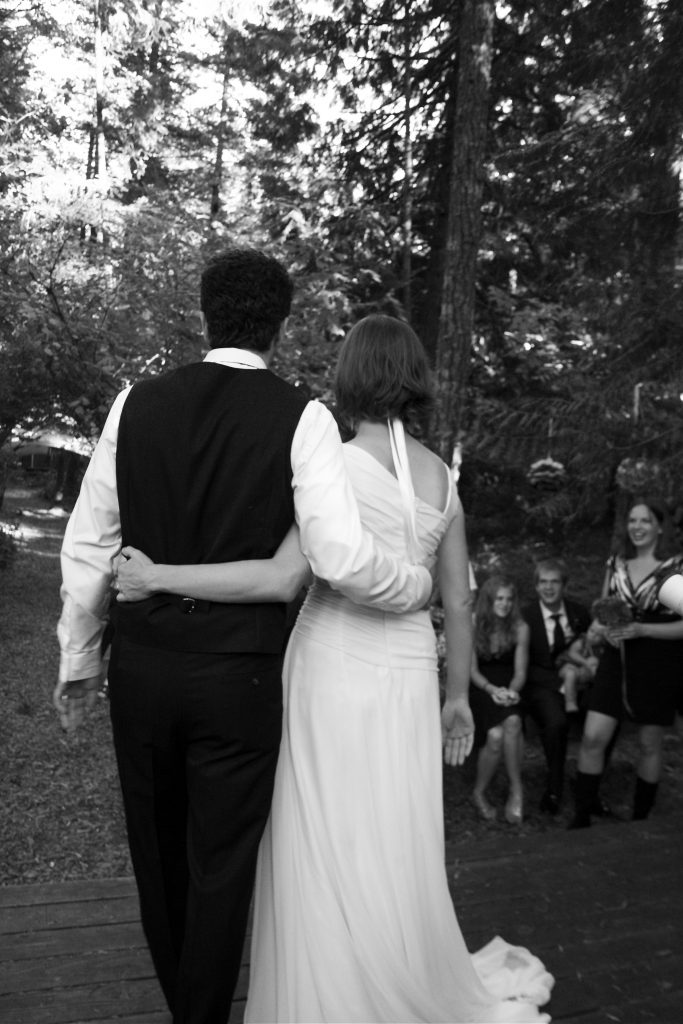 We did it! Standing before our family and friends for the first time as husband and wife.

Finally, thank YOU (yes, you)!
To all who read (this and the last post), commented, and sent or thought nice things, thank you.
And, an extra huge Thank You to those of you who participated in or attended our wedding as well.
Every one of you is part of our community and I'm so grateful you are in our lives. Much, much, much love!
PS. I posted a bunch more photos over at Google+. For now they are posted publicly and everyone can view. Soon, I'll change it so only people in my circles can view my pictures; I'll leave them public for as long as I can stand though.
And, if you aren't on G+ and want an invite, let me know.
Comment Magic:
For a woman who had never dreamed of getting married, I somehow had a dream wedding. I am in awe of and inspired by the generosity, support, and love of our friends and families – both present and not. Truly, the entire day felt enchanted.
What I'd love to hear from you today is congratulations, well wishes, and stories of your own Enchanted Day – whatever it may be, wedding or otherwise.
(more love)