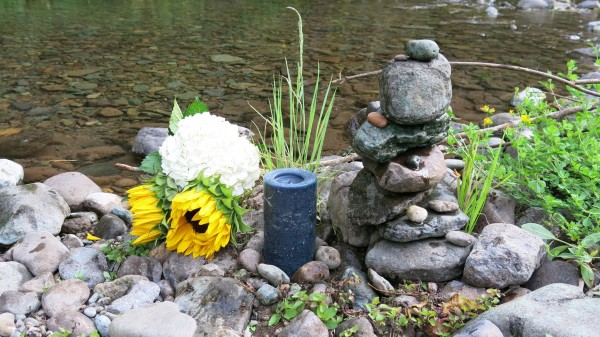 It's the week leading up to the fall equinox – that magical time of the year when, for a moment, light is balanced with dark.
With dark and light poised in perfect equilibrium, this time of the year offers us the opportunity to bring whatever that is out of balance within our lives forward for reflection and healing.
To connect the upcoming Equinox with our home planet, one of the key qualities of the Earth element also happens to be balance.
When the earth is in balance, both the earth and humankind thrives. When the systems of the earth are out of balance, havoc is wrecked – for instance climate change leading to very destructive storms, drought, mudslides, etc.
I believe that the imbalances that are showing up more and more in our climate and ecosystems are mirrored within our personal and collective psyches.
Bringing whatever is out of balance in our lives into conscious awareness allows for healing to unfold on both a personal and a planetary level.
Our awareness and willingness to work with what it out of balance within ourselves and our lives opens the gates for much more healing to flow through than we might expect or even be able to understand.
One simple way to bring greater awareness around what is out of balance in our lives is to spend some time free-writing.
Here are some journal prompts to get you started.
Take a look into your life and ask:

Where, when, and with whom do you feel the most at ease and relaxed? Where, when, and with whom do you experience the most stress, anxiety, and overwhelm?
What symbols or hints of either discord or harmony are you noticing in your daily environment? (Just take a look around you: what catches your attention and how does it relate to this question?)
Where are the qualities of Earth (abundance, balance, nurturing, compassion, generosity, grounding, etc…) present in your life? Where are they absent?
How might deepening into your relationship with the Earth and tuning into the balancing energies of the upcoming Equinox bring more balance and ease into your life?
Is there some small ritual or symbolic action you could take to welcome in more balance and ease into your life? If so, what is it?
Bringing your attention to both the element of Earth along with the balanced energies of the upcoming Equinox allows for our emotions and our lives to find greater equilibrium as well.
Personally, I can't think of anything better as we look forward to the increased activity and stress of the upcoming holiday season!
Comment Magic:
I welcome your thoughts on the interconnection between the imbalances/chaos of the greater systems (from interpersonal relationships to war to climate change..)  and the imbalances present in your daily lives, including your internal world of thoughts and emotions.
Do you notice a mirroring between the two? Or, is it just me? 🙂