I've noticed a theme with a few of my clients lately – a theme of being afraid to really feel whatever is going on for them.
The actual feelings and the situations that are bringing them up are widely varied.
The commonality lies in the fear that if they truly feel the feelings, they will be overwhelmed by them, swept away by them, and end up wallowing in them for endless days.
The wallowing piece has got me thinking about bison.
Specifically, how bison create huge wallows – large indentations in the earth where they roll and cavort on their backs in the dust.
The purpose of wallowing for the bison is to build up a layer of dust (or mud) to protect against insects.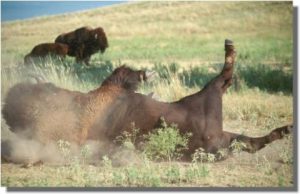 *photo courtesy of H. Schuster
Bison don't *stay* in the wallow, however.
They wallow. Then they leave and go on with their lives. And then, when the dust wears off and the insects are once again biting, they return to wallow again.
The purpose of wallowing for us humans.
For us humans, the wallow allows us to release the emotions that build up and keep us from being fully present.
When our emotions are fully felt, we no longer have to keep a part of ourselves walled off. But…
…wallowing is hard.
Especially in a culture where the very word 'wallow' is associated with self-pity and self-indulgence.
And yet, within the word itself is hidden another word:
Allow.
That's what it is really all about, giving ourselves permission to feel whatever it is that we are feeling. Allowing those feelings to come through.
It's very normal and natural to be afraid of wallowing.
To be afraid that if you allow some of the emotions to come through, they will:
all come through at once and overwhelm you, or
get stuck and there you'll be, wallowing, forever.
With emotions that run particularly deep and that are particularly painful, it's understandable to not want to go there.
If you don't go there, however, the emotions come out indirectly anyway – through irritability, pain, fatigue, constantly feeling stressed, etc.
That's why it is important to have a wallow to wallow in.
Not just any wallow. Your wallow. A place that feels safe where you can let your emotions flow.
You come and go. It stays. It is there for you… when you need it.
When you need it, it holds you.
Creating your own wallow.
The bison don't just stumble upon a pre-created indentation in the ground. No. They dig it out with their hooves. And then, they wallow.
We can do that too. We can create a safe, private place where we can go when we feel the insects of difficult emotions biting at us.
Perhaps it's just closing the door to the bedroom. Perhaps it's having a favorite tree or plant to talk too. Maybe it's watching that one movie that always brings us to tears.
We too can wallow.
Once we are done, we too, like the bison, can leave the wallow and return to our daily lives knowing that when we need it again, when difficult emotions are again biting, we can return. And wallow once more.
Comment Magic:
I strongly endorse the use of wallows. I have a wallow I go to nearly every day – for maintenance, if you will. 🙂
Visiting it regularly keeps the difficult emotions from building up to the point where they begin to wreck havoc on my daily life. When I leave, I feel cleansed, more fully myself, and better equipped to face the rest of my day. It feels, somehow, both protective and preventative to me.
What about you? Do you have a wallow? If not, how might having a place to go to when you feel difficult emotions eating at you be useful? If you do, what form does yours take? 🙂