Just over a year ago, our son was born. An intended home birth, we ended up in a cesarean after 67 hours of non-progressive back labor.

The day after returning home from from the hospital, I wrote the following.

I am sharing it here now with the hopes that it may speak to you or spark your own insight if you also tend to find yourself in this place of 'waiting.'
Larisa from a year ago writes: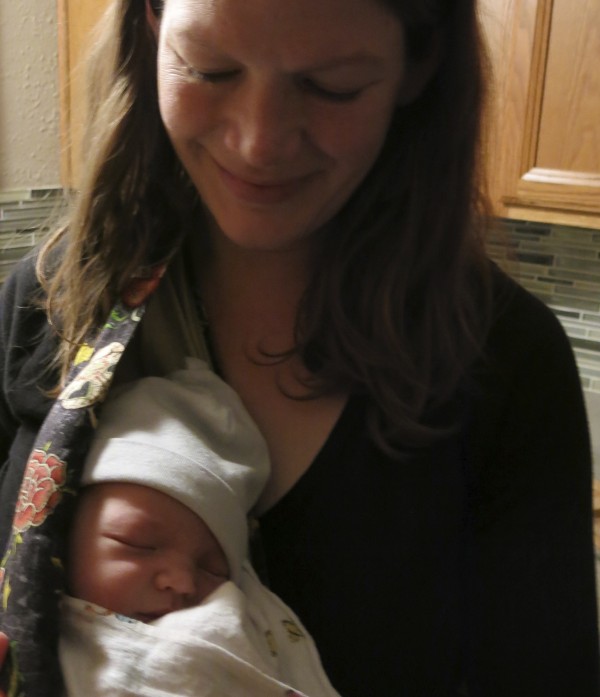 Donovan is here! In the flesh!
Right now, as I write, he is nestled up to my chest in a sling. Peacefully sleeping.
The story of his arrival is epic; I'm not certain I can even scratch the surface of the the event itself or of its meaning/significance.
Let me begin with now, Saturday the 14th, 2015, finally at home with both of my men.
Today I feel overwhelmed, in the best possible way, for every detail of this pregnancy, delivery, and birth. I feel such gratitude for all that has transpired (including my own birth) that brings me to this specific moment.
Sitting here today I have no idea what the future will bring… only that it will be so unlike the past as to be completely unrecognizable.
I have no idea what the future will bring and that brings me such a sense of joy, celebration and wonder. That underlying sense of dread/doom (that I wasn't even consciously aware of for the most part) has lifted. And it is all due to the birth of Donovan Noonan.
Today I saw how much of my life I've spent waiting.
Waiting for something to happen or, perhaps even more accurately, for something to be over.
While this pattern underlies my entire life, this pregnancy and birth brought it to the surface in such a way that I can no longer ignore it.
Throughout the entire pregnancy, I was just waiting for it to be over.
Initially I was so exhausted, nauseous and overheated that all I wanted was for the first trimester to be over.
Finally, it was. Those symptoms lessened or vanished but new ones took their place – that I also simply endured knowing there was an eventual end in sight.
Every discomfort associated with pregnancy had a potential end date, a time when they would no longer exist, so I simply held out for that time signified by D's due date.
Finally, the week of his due date arrived. And then passed.
Every subsequent day brought the possibility of relief from the acute discomfort of pregnancy, from the waiting. Every day brought the possibility of Donovan's arrival. Every day passed with no such resolution.
Time crept on for two weeks past the due date.
Then, happiness! Contractions began, my water broke – on a Friday around midnight.
At this point, a whole new level of discomfort (and waiting) began.
From midnight Friday through all day Saturday, all Saturday night, all day Sunday, the contractions continued – at a level of pain that left me shaking, gasping, crying.
Note: we later discovered he was in the worst possible position for labor and that was why I was in so much pain from the very first contraction.
And yet, there was an end in sight, right? I was in labor. I had to give birth. It was happening? Right?
Eventually, it became obvious that a home birth was no longer an option.
Labor was simply not progressing and my water had been broken for nearly 40 hours at this point.
While I was sad to release my dream of a home birth, I was very very happy to have a plan… and a place to go that would put my waiting (and my pain) to an end.
We arrived at the hospital. I was given an epidural and pitocin.
And then, time slowed down again.
Instead of going in, getting the shot/medicine, and then being able to give birth, more waiting… for me to fully dilate.
Monday afternoon I was finally far enough dilated to attempt pushing.
Three hours later, still nothing. No real progress.
Plus, complications (for both me and Donovan – infection, fever, D's heart beat decelerating alarmingly, the obvious continued malposition…).
It was determined a c-section was necessary.
Ok, now, really the waiting was about to be over.
The epidural was no longer working and I was once again in extreme pain plus I no longer had any resources (nor desire) left to meet the pain.
Finally, after the procedure was described in great detail with every cell in my body silently shouting that I didn't care about nor want to know the details, just get me the fuck into the OR, I was in the operating room.
Then, more complications.
And yet, finally, it did happen.
D did arrive!
The waiting was over!!!!
Except, now, a whole new series of things to endure…
…the hospital stay, Donovan screaming himself hoarse (and me incapable of consoling him), nursing issues, being constantly examined, given injections, pills, not being able to move, being in a new kind of pain, unable to sleep, go home, etc.
Days later, we were finally released only to discover the reality of life with a newborn who didn't sleep day or night due to trauma from the birth and an acute nerve root injury sustained during the c-section…
Still, the first three weeks are the hardest, right? Just hold out until then… I can make it another three weeks. Can't I?
UNTIL… today, the breakthrough.
Seeing/feeling/sinking into the gift of NOW.
Of the preciousness of this time (which will be over so quickly!), the sacredness of these first days with Donovan, with Paul at home, of this time we have together.
Of how beautiful his cries are, of the wonder and bliss I feel in those moments of calm during and after feeding or now as he sleeps (he's sleeping!) on my chest.
Of this moment.
Of the next and the next and the next.
Ever unfolding. Ever sacred.
ALL of it, the pain, the discomfort, this ache in my back, the depletion in my body and the searing pelvic pain from surgery.
The sweet coos D makes as he sleeps.
The high pitched hoots in between heart-breaking wails.
His tiny arching back, his seeking mouth, his beautiful, all-seeing, slate-gray eyes.
I don't want to miss a moment of it… waiting.
I want to be here, fully, for all of it.
From now to forever.