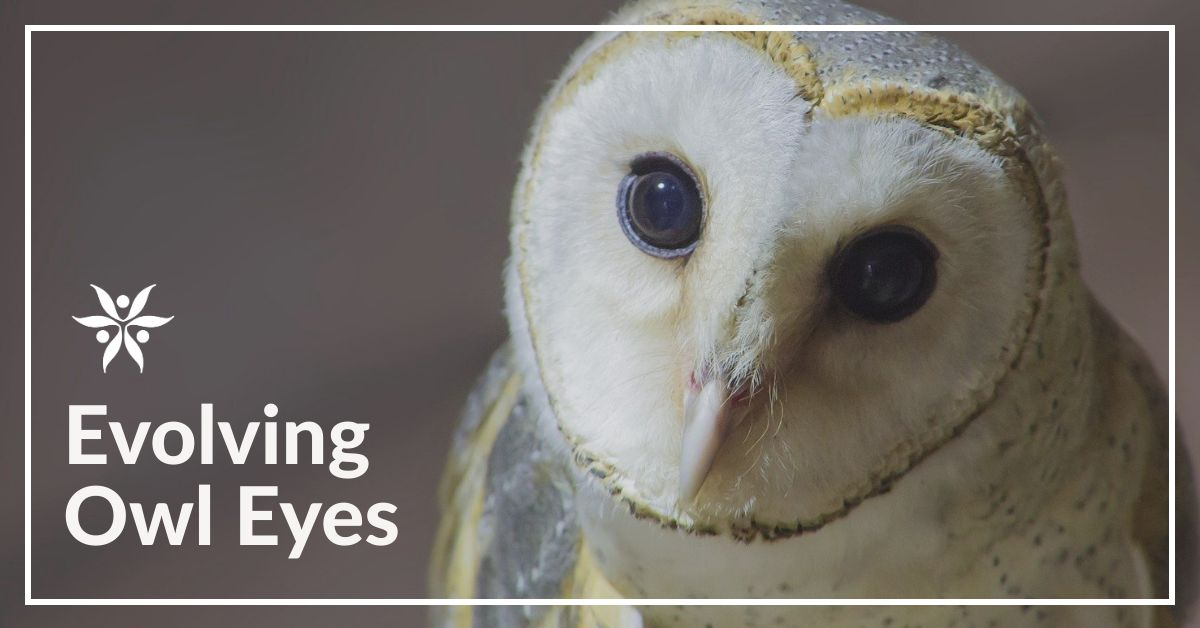 Today I'm here to talk about Owl Eyes… specifically, to share a more advanced understanding of Owl Eyes that has really landed for me over the past couple of years – and that I finally feel ready to speak about out loud. 🙂
First, what is Owl Eyes?
Owl Eyes is the nature connection term for wide-angle vision (versus narrow/focused vision which is most of us spend most of our time). When you are in Owl Eyes, while nothing is super clear, you are able to see movement at the edge of periphery – which is very useful when you are in the woods (or on urban streets for that matter) and want to see wildlife.
Owl Eyes:
has a profound effect on the nervous system. The longer I spend in Owl Eyes, the quieter and calmer I become – whether I'm in the woods, in my home, or in a group setting of some sort.
has a profound effect on the mind in that, when you are in Owl Eyes, it becomes very hard to think. 🙂 Truly, thoughts simply stop.
is incredibly useful for shifting out of a highly charged or emotional state and into more of a place of neutrality and witnessing. It allows us to be on the edge of intense emotions and feelings versus consumed by them. When in Owl Eyes, it is easier to metabolize or process through challenging feelings and sensations.
So… that's the stuff I've been playing with and teaching for over a decade. 🙂
Now… on to a more advanced application that has been landing for me over the past 5ish years…
I'm going to call it Evolving (or Spinal) Owl Eyes.
This skill arrived over the course of many years of being up with my son when he struggling with digestive and immune issues and would spend hours out of every night writhing, coughing and choking. Nothing I did seemed to make much, if any, difference.
I would be in a state of acute anxiety, alarm, distress, and fear during these times and be doing everything in my power to help him feel better.
My ancestors kept showing me over and over (and over and over) how much of 'me/my energy' I was putting onto him in these time. How my very desire to help him (so he would feel better and be able to sleep… so I would/could feel better and be able to sleep) was actually interfering. They kept asking me to pull my energy and attention back from him and instead to focus on all of the turmoil and pain within me in those moments (while in connection with them).
Me: My son is so obviously suffering and in need of help and you are asking me to abandon him and focus on myself instead?!? 
And yet, they insisted. And so, slowly, gradually, I began to do as they suggested… pulling my attention and energy off of, out of, my son and into my own body… shifting into Owl Eyes to help me access more of a state of 'witnessing' my own experience during these moments.
I would shake, shake, shake, and tears would flow as the intensity of all I was experiencing moved through me.
As I repeated this process over and over (and there were plenty of opportunities for that), my ancestors began to show me how I could drop into my body to where the most intense sensation lived (generally in my stomach or chest) and then, from there, bring my attention back, into my spine and FROM THERE, shift into Owl Eyes.
Owl Eyes VS Spinal Owl Eyes
Previously to this, Owl Eyes allowed me to witness the intensity of what was happening in my body and also helped me to connect more easily with my ancestors for support/resourcing but from more of a detached, not-quite-fully embodied stance.
Bringing my awareness into my spine and then shifting into Owl Eyes from my back body (almost even just outside of my spine, behind myself) completely changed my experience of Owl Eyes.
It was as if all of me (my physicality in addition to my mental/emotional bodies and everything external to me) was held in love. My connection to Spirit and my ancestors intensified and my awareness via Spinal Owl Eyes became a doorway through which the healing and magic of the unseen realms could enter into the tangible world.
Spinal Owl Eyes
Spinal Owl Eyes is a more embodied version of Owl Eyes that allows for my awareness and my physical body to be a bridge between worlds.
Spinal Owl Eyes is an act of surrender in that I don't know what will come through.
Will the healing I'm desperately seeking be available? Maybe…and maybe not as, if I am in that state of desperation, I'm unlikely to be able to access Spinal Owl Eyes and Spirit in this way.
Surrender + Trust
What I am deepening into through this process is Trust – Trust that what comes through in those moments when I am in Spinal Owl Eyes and connected in this way – to my body, to Spirit, to Owl – is exactly what is needed.
Sometimes it is a new insight or understanding. Sometimes it is a lessening of some pain in my own body. Sometimes it is a complete healing for my son and he settles into a deep and restful sleep. Sometimes it is something else entirely.
For you.
Spinal Owl Eyes is available for you too. Here's a sequence you can follow. The more you practice, the easier it will become.
Notice some area of discomfort in your body or life (if in your life, notice where the corresponding sensations live in your body).
Shift into Owl Eyes (wide-angle vision) and spend a moment or two noticing how your experience changes simply through making this shift.
Bring your awareness into your spine (if this is difficult one of the easiest ways I know to bring awareness to my spine and back body is to walk backwards for a minute or so).
From your spine (and I know this sounds weird but somehow, it is possible and it works) shift into Owl Eyes again… this second, from the back body shift into Owl Eyes will allow all of your physical body to be included within the 'Wings of Owl.'
Notice at the same time your connection to Spirit (however that is for you) and notice how you/your body becomes a bridge for the unseen to flow into the seen.
Hang out in this space for as long as feels good (or for as long as you can tolerate) before bringing your awareness more fully to the weight of your body, the sounds surrounding you, the objects in the space around you.
And, again, this process might (is likely to) seem really strange at first. It does take some practice – especially when working with an issue or physical pain that is at higher levels of intensity.
May this version of Owl Eyes be useful for you. If you engage this practice, feel free to drop me a note and share a bit of your experience.
with love,
Larisa
ps. we will be practicing this skill next week during our mini-retreat in the
Witchy Healer Wisdom School
. We'd love to have you join us!