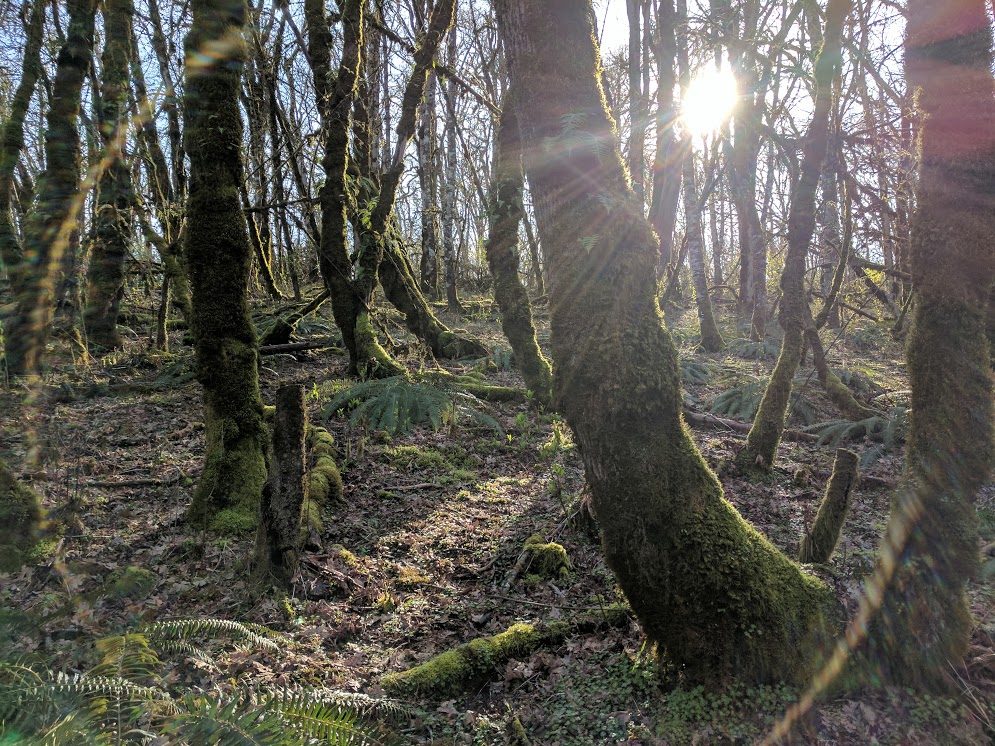 The spring equinox is fast approaching! As I'll be in a week-long ritual/training next week, I won't be hosting my usual virtual ritual this equinox. Instead, here's a do-it-yourself suggestion to ritually celebrate the equinox with your favorite tree-person.
DIY Spring Equinox Ritual:
1) Wander until you find a tree to whom you feel drawn.

Accessibility is key here – if there is a tree-person in your yard, spend time with this one! No need to drive to wilderness area or even a local park although that is also fine if you have the time and inclination.

2) Introduce yourself and ask permission.

Introduce yourself and your ancestors (my name is ____; my people are from _____), state your intention for being there, and ask permission to celebrate the equinox with this one.

3) Listen for the echo-back.

Take a moment to listen for the echo-back – a sense that yes, you are welcome. Or not. If not, say thank you and move towards another tree-person and ask again.

4) Make a small offering and listen.

Once consent has been established, take a moment to make a small offering (a pinch of lavender, a strand of hair, fresh water, a song…) and then spend a moment in silence, listening/connecting… perhaps with your forehead to the tree, perhaps sitting on the earth and leaning back with your spine against the trunk. Listen in particular for any messages this one might have for you.

5) Share about your past three months.

As you feel ready, spend some time sharing with Tree about your past three months – the difficulties, the joys. Speaking out loud is great. If you are in a public place, it is also fine to whisper or simply think the thoughts to the tree.

Perhaps name and offer to Tree three things you'd like to release in order to move into spring lighter and freer. Perhaps you'd like to ask for Tree's support in rooting an intention for three things you'd like to welcome into your life over the upcoming three months.

In general, let it be organic and trust whatever feels most alive for you in the moment.

6) Request a blessing and/or allow yourself to merge with Tree.

Spend more time in silence, allowing yourself to be held by this one, perhaps requesting a blessing for your body/life.

If it feels good, allow yourself to merge a bit with this tree, to feel their/your roots sinking down into the earth, their/your branches reaching up to the heavens, the spring breeze on their/your bark. Notice the feel of new life entering the roots, the feel of buds swelling on twigs.

How does this day of light/dark balance, of the spring equinox, feel from the perspective of Tree?

7) Gratitude.

As you are ready, come back fully into your own body (if you did choose to merge a bit), say thank you and make any further offerings you feel prompted to give, spend another moment listening for any messages for your life, and then offer more gratitude and be on your way.
Final note:
This sequence is in no way prescriptive – I'm offering it as a starting point. Trust yourself, Tree, and the natural flow of the encounter. And, feel free to let me know how your DIY spring equinox ritual with Tree goes!
with love,
Larisa
ps. through continuing to make offerings, ask for blessings/share your life and, in general, spend time together, this ritual can be the beginning of an ongoing, nourishing relationship with Tree.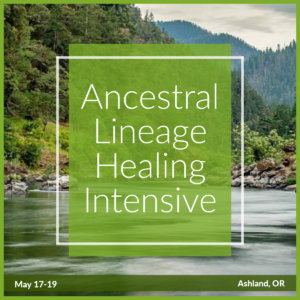 pps. exciting news! I'll be co-leading a 3-day ancestral lineage healing intensive in Ashland, OR in May with the wonderful Maris of Living Voice Medicine. I feel such a sense of steadiness and depth of love/healing when I tune into this event. We'd love to have you join us!