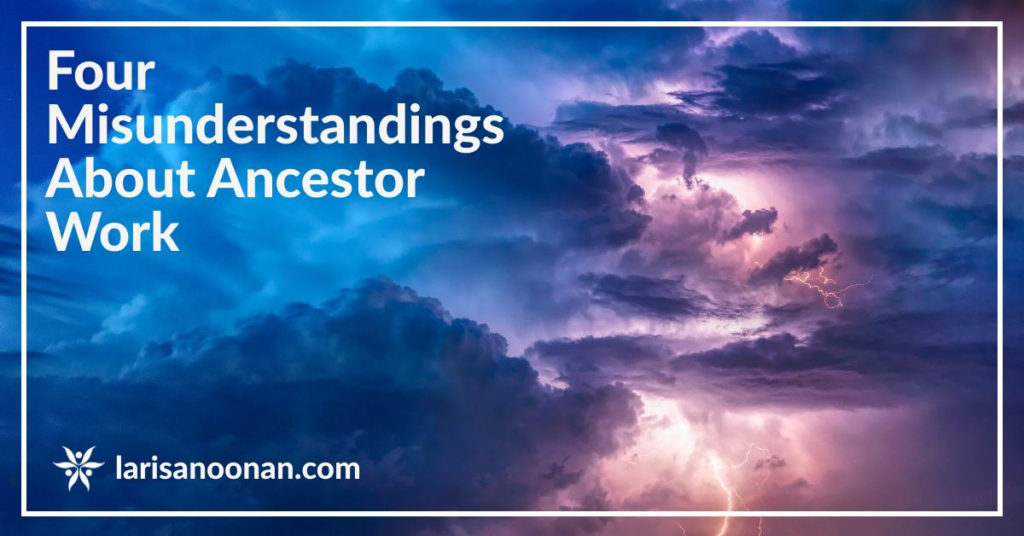 The ancestors seem to be showing up everywhere — with spiritual leaders, healers, and even scientists talking about epigenetics, ancestral trauma-healing, healing backwards and forwards through time — and there is this craving (from both the ancestors and their incarnate counterparts) to be in relationship.
As understanding of intergenerational trauma and the roles the ancestors play in the unresolved pain in our lives has increased, interest in the ancestors and healing these patterns has proliferated.
Unfortunately, many people (myself included initially) jump in without proper understanding of the water into which they jump.
Here are five common misunderstandings that are important to clear up prior to starting to work with the ancestors.
MISUNDERSTANDING #1: All ancestors are at peace and loving so it is fine to just invoke them generally.
MORE NUANCED UNDERSTANDING: the world of the living mirrors the world of the dead.
Looking around at the living humans you know, it is likely obvious that some are more able to act with respect, love, and integrity than others. The same is true of the ancestors. Just because someone has passed from this world into the next doesn't mean they are automatically at peace and able to act as loving protectors and guides for the living.
When the ancestors are well, it is great to invoke them generally. When they aren't (or, as is most often the case, they are both at peace and not-so-at peace), boundaries are needed until they have received the healing they need and can function (if they choose) as loving protectors and guides.
Not all ancestors are at peace and/or loving. Not all people who die are automatically at peace (go to heaven) or automatically become well ancestors.
MISUNDERSTANDING #2: When people die, they go to heaven and are with God or they just disappear/cease to exist.
Either way, they are not with us. We no longer, except in rare instances, have access to them nor can we continue to relate with them in any real or meaningful way.
MORE NUANCED UNDERSTANDING: in a relational universe, nothing is ever finished or disappears completely (more here).
MISUNDERSTANDING #3: Healing one ancestor will solve all ancestrally rooted problems.
MORE NUANCED UNDERSTANDING: While there are many ways to approach ancestral healing, it seems to me that some are a bit too 'spotty' as in, they will focus on one specific ancestor and then assume their healing solves all ancestrally rooted problems and the person can get on with their life.
In my experience, even if there is one truly 'problematic' ancestor, focusing solely on them is unlikely to fully solve the problem because 1) the trauma will continue to play out in a myriad of ways throughout the generations following that ancestor; and 2) it is likely the problem was seeded/rooted in other troubles in previous generations.
And yet, there is the concept that healing flows both backwards and forwards in time which suggests that if this one ancestor is healed/released from their trauma, all aspects of that problem are also healed throughout all time… the pattern itself unravels and wholeness is restored.
This concept could very well be true. I'm not saying healing doesn't/can't happen in this way.
I personally have issues with this approach as the individual is not the lineage (and I've been trained in a lineage-based approach to working with the ancestors). And yet, I have experienced healing working in this way – typically around very specific patterns within a lineage versus experiencing the entire lineage as healed/whole (the intention for the work I facilitate).
My other objection is that this approach has the feeling of 'one and done.' The ancestor receives healing, the pattern shifts, and the person moves on. Working in this way misses the possibility of being in relationship with your ancestors in ways that are mutually beneficial and ultimately life-enhancing. More on this in the next misunderstanding…
MISUNDERSTANDING #4: The ancestors/their trauma just needs to be cleared.
MORE NUANCED UNDERSTANDING: Even more problematic in my mind than misunderstanding #3 are the modalities that seek to clear the ancestors and/or ancestral trauma from a person's body and/or energetic field. This approach stems from the thought that if the ancestors/their trauma is cleared, the person can then be free to live their lives.
Note: when beginning to work with our ancestors, boundaries and clearing work is often needed as a first step (which implies there are further steps to be taken). 🙂
I consider this approach a misunderstanding because clearing ancestors/ancestral trauma from a person's body and/or energetic field abandons the ancestors and centers the individual. We lose our place in the flow of blessings and gifts of our ancestors. We lose our connection via our ancestors to the greater web of life of which supports and sustains us.
In essence, clearing the ancestors/their trauma isn't relational. Or, perhaps it begins relationally with an acknowledgement of the ancestors but then veers quickly back into individualism with the ancestors simply being something that needed to be 'solved/cleared' in order for the person to be able to get on with their life.
Again, we miss the opportunity to enter into a supportive, loving relationship with those who walked before us.
In summary:
When first learning about or beginning to explore ancestral healing work, it is common to run into at least one (if not all) of the above misunderstandings. Taking into consideration the nuances I've laid out above can make your journey into ancestral connection and healing proceed with much more ease.
I'll be back next week with one more misunderstanding – it is such an important one that it gets it's own article!
with love,
Larisa
ps. If you would like some support on your journey, the Witchy Healer Wisdom School is now enrolling! Procure your favorite beverage, settle in and read all about it, and then reach out if it feels like a fit. <3
pps. If this article spoke to you, I'd be very grateful if you'd share it with those you love and/or on your favorite social media platform. Thank you!