Ancestor Trouble: The Truth Will Set You Free
A free talk and mini-workshop with Maud Newton, author or Ancestor Trouble: A Reckoning And A Reconciliation
Greetings!
I'm so very excited and honored to invite you to spend an hour with Maud Newton and myself on Sunday, February 13, at 10am Pacific!
In this hour, Maud will:
Discuss how she came to write Ancestor Trouble
Give a couple of short (3-5 minute) readings from the book
Discuss acknowledgement genealogy and how it might be practiced inside and outside our families
Lead an exercise to check in with our ancestors about how we individually might best acknowledge their harms while honoring their gifts
Invite sharing of other people's experiences of talking with family about difficult family histories, and collective discussion about ways to approach family, friends, and strangers who are not open to ancestor work per se but might be excited by imaginative and psychological work around the edges
Maud has worked with Larisa for several years and sees the Witchy Healer community as a creative safe space.
Details

What: a 1-hr talk, book-reading, and mini workshop facilitated by Maud Newton and hosted by myself, Larisa
When: Sunday, February 13th, at 10:00am Pacific
Where: online via zoom (you will receive the link when you register)
Why: because I (Larisa) adore Maud and want you to meet her! Also, I've read her book and it is as wonderful as she is.

Registration is closed. To be notified of other events like this one, join the newsletter (you can subscribe in the footer of this page).
About Maud Newton:
Maud Newton is a writer who found her way to ancestor work over the seven years she spent writing Ancestor Trouble: A Reckoning and a Reconciliation (coming from Random House on March 29). Before this, she had revolted against her evangelical Christian upbringing by becoming a committed agnostic.
Maud seeks to combine the tenacity of transformative social justice work with the tenderness and deep wisdom that working directly with ancestors can bring.
She's especially interested in reaching people who are not open to explicitly spiritual ancestor work but would be receptive to more psychological or creative approaches, which for Maud offered glimpses of transformation that were a gateway to ancestor work.
Maud is committed to "acknowledgement genealogy" as an avenue to personal and cultural healing, the idea being that by open-heartedly sharing the harms our individual ancestors caused, without the expectation of forgiveness from those who were harmed, we can set ourselves free from unhealthy allegiances and make space for broader transformation in the world.
Here's the official description of Ancestor Trouble (which is available for preorder):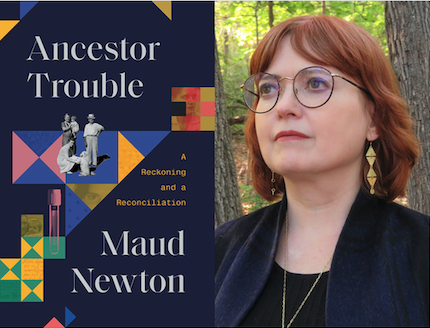 Maud Newton's ancestors have vexed and fascinated her since she was a girl. Her mother's father, who came of age in Texas during the Great Depression, was said to have married thirteen times and been shot by one of his wives.
Her mother's grandfather killed a man with a hay hook and died in a mental institution. Mental illness and religious fanaticism percolated through Maud's maternal lines, to an ancestor accused of being a witch in Puritan-era Massachusetts.
Maud's father, an aerospace engineer turned lawyer, was a book-smart man who extolled the virtues of slavery and obsessed over the "purity" of his family bloodline, which he traced back to the Revolutionary War.
He tried in vain to control Maud's mother, a whirlwind of charisma and passion given to feverish projects: thirty rescue cats, and a church in the family's living room where she performed exorcisms.
Their divorce, when it came, was a relief.
Still, the meeting of her parents' lines in Maud inspired an anxiety that she could not shake; a fear that she would replicate their damage. She saw similar anxieties in the lives of friends, in the works of writers and artists she admired.
As obsessive in her own way as her parents, Maud researched her genealogy—her grandfather's marriages, the accused witch, her ancestors' roles in slavery and genocide—and sought family secrets through her DNA. But sunk in census archives and cousin matches, she yearned for deeper truths. Her journey took her into the realms of genetics, epigenetics, and the debates over intergenerational trauma. She mulled modernity's dismissal of ancestors along with psychoanalytic and spiritual traditions that center them.
Searching, moving, and inspiring, Ancestor Trouble is one writer's attempt to use genealogy—a once-niche hobby that has grown into a multi-billion-dollar industry—to expose the secrets and contradictions of her own ancestors, and to argue for the transformational possibilities that reckoning with our ancestors has for all of us.
Maud also has a newsletter called Ancestor Trouble.