Here are the audio recordings for Dissolving Overwhelm with Owl. Below you will find the ebook text as well – just in case you want to review anything while you are here. 🙂
Becoming an Owl:
From Overwhelm to Peace:
Introducing the Medicine of Owl
Rediscover Peace and Perspective
Hello. My name is Larisa Noonan and I want to introduce you to one of my favorite allies – Owl. Owl carries immense medicine. Here, I'm going to briefly describe a small portion of her medicine as it pertains to dissolving overwhelm specifically.
Owl's large eyes allow her to take in more light at night giving her the ability to see in the dark. Thus, she can help us navigate the darkness (or the things that scare or overwhelm us) within ourselves.
Owl can hear 10 times more than we can. She sits quietly on a branch, listening, receiving the sounds of the night. This, combined with her 270 degree vision allows her to teach us how to also sit quietly, taking in external stimuli without feeling bombarded by sounds, sights, and activity.
Her soundless flight gives her the ability to snatch her prey unaware resulting in nourishment for herself. This quietness demonstrates one way we also can approach self-nourishment – in the moment, quietly, without attracting the attention or questions of others. We can be self-care ninjas… Or, even better, self-care Owls. 🙂
With this brief introduction, I welcome Owl here to be with us today. May she guide you from Overwhelm to Peace and Perspective as she has done for me time and time again.
Why Owl Medicine is needed.
We live in an increasingly busy, hectic, demanding world – a world in which it is easy to feel overwhelmed.
When overwhelmed our entire world narrows. We enter a tunnel. A tunnel where we experience near panic, a loss of a larger perspective, and disconnection from our bodies, from our true selves, from Spirit.
Signs of overwhelm include:
procrastination and lack of follow through on ideas, plans, projects
feeling scattered, forgetful, distracted
chronic exhaustion and busyness but with little to show for our efforts
difficulty making decisions
continual mind-spin, replaying conversations, obsessing over the past, worrying about the future…
tendency to turn to numbing behaviors – tv, social media, shopping, other addictions…
Being overwhelmed feels so… overwhelming… because it is a combination of external pressures and internal thoughts, feelings, and sensations.
Further, what causes overwhelm for you might be quite different than what causes overwhelm for me. This can lead to feeling alone, misunderstood, and unseen.
Some possible overwhelm triggers include:
work or project deadlines
conflict – whether internal or external
new injuries or old trauma that hasn't been processed/healed
attempting to play too many roles (perfectly) at once: mother, business owner, wife, friend, community organizer, volunteer…
painful memories surfacing
transitions – new job, injury, marriage, divorce, baby, buying a home…
You likely have your own storm of internal and external demands that leads to a sense of exhaustion, stress, and overwhelm.
Perhaps you would like a gentle, surprisingly simple, process to help you slow down and re-discover your innate connection to peace and perspective. A process that will allow you to resolve overwhelm in the moment that it occurs.
Perhaps you would like a practice that, with continued use, will change how you approach your entire life – from how you make decisions, to how you respond to loved ones, to how you approach work and play.

I'm here to offer you a deceptively simple process that works.
Follow me and with Owl on my shoulder we will guide you through a simple process that will connect you to your body, to your self and to a sense of being held by something larger than yourself while simultaneously shedding overwhelm.
Thank you for being here.
Much love,
Larisa and Owl
Let's talk about overwhelm.
Overwhelm occurs when we are bombarded by more stimuli than our senses can handle.
Sources of overwhelm include:
External stimuli:  loud or competing noises, other people, external pressure, deadlines, too full of a schedule…
Internal stimuli: physical pain/tension, intense emotions, other sensations
Monkey mind:  a mind that is spinning in circles, replaying conversations, analyzing this or that, engaging in negative self-talk, obsessing about the past, worrying about the future
Most often, overwhelm involves some combination of all three sources.
The end result is that our world collapses in on itself and we enter a tunnel where we lose perspective. We get stuck in our heads and become disconnected from our bodies. We no longer have access to the sensations in our body that when fully felt, lead to the resolution of overwhelm.
While it is very normal to attempt to avoid the feelings and sensations associated with overwhelm, the very act of "avoiding feeling these sensations in our bodies increases our vulnerability to being overwhelmed by them."1
In short, when we are overwhelmed, life becomes difficult. Everything—from making decisions, to connecting with loved ones, to completing projects, to doing self-care—seems impossible.
It doesn't have to be this way.
It is possible to resolve overwhelm and return to a sense of peace within yourself in a matter of moments.
Over time, this returning to yourself becomes a habit that will change the way you respond to everything in your life.
With continued practice, you will discover a life centered in peace, perspective, and connection versus in overwhelm and stress.
Returning to yourself with the help of Owl.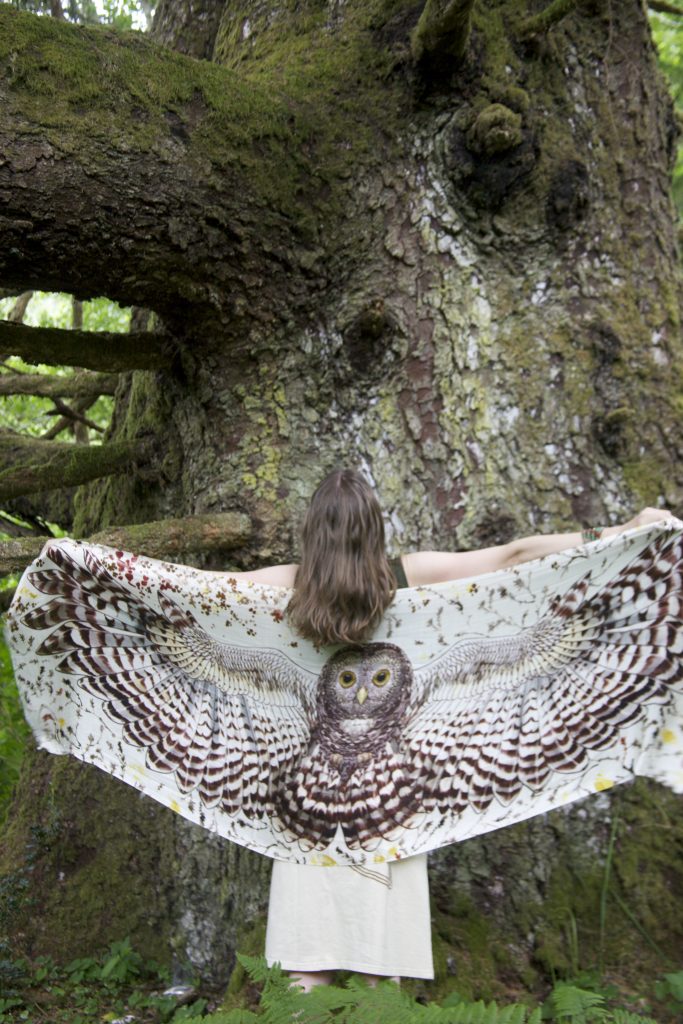 This returning to a more peaceful version of yourself begins with a practice called Owl Eyes.
Owl Eyes is the naturalist's term for wide-angle or peripheral vision.
When overwhelmed, our vision, just like our world, becomes narrow and focused. Our vision constricts until we can only see what is directly in front of us thus contributing to the sense of being confined in a tunnel.
Conversely, when we are in Owl Eyes, our gaze is soft and wide. We are aware of and can see movement at the edges of our vision.
For the naturalist, this means she is more likely to see the deer sneaking away off to the left, the barred owl ruffling his feathers up in the tree to the right.
For us, there is an even more important aspect of Owl Eyes:
shifting into a wider visual field brings us gently, safely out of our heads and into our bodies.
We are no longer confined within the tunnel of overwhelm.
This shift from narrow to wide vision provides us with a quick, efficient way of dropping out of our spinning-minds and gives us immediate access to the feelings beneath our sense of overwhelm.
"Neuroscience research shows that the only way we can change the way we feel is by becoming aware of our inner experience and learning to befriend what is going on inside ourselves…" -Bessel Van der Kolk, MD, The Body Keeps the Score
When we access and fully feel the feelings beneath all the thoughts, the feelings dissolve, overwhelm resolves, and we are able to return to our day feeling present and peaceful.
So, that is where we are going. To get there, we need to discover the practice of Owl Eyes.
Discovering Owl Eyes.
Imagine an owl.
Think about its large, round eyes. Curiously, the eyes of an owl are fixed in its head. This means they can't look left, right, up or down without physically turning or moving their necks.
Becoming an owl:
When first learning Owl Eyes, I suggest standing so your arms have full range of motion. Once you have a sense of Owl Eyes, you will be able to shift into them at any time – sitting, standing, lying down, with your eyes open or closed.
Listen to the audio track below and follow along as I guide you through becoming an owl.
Shifting between your regular eyes and Owl Eyes:
Practice shifting your vision back and forth between your normal, focused, narrow vision and Owl Eyes a few times.
What happens inside you as you shift your focus back and forth? Do you notice any difference in the sensations and tensions in your body? If so, take a moment to describe what you notice.
Notice your thoughts (remember, mind-spin is a primary symptom – and cause – of overwhelm). What happens to your thoughts when you shift into Owl Eyes?
Feeling is healing.
Resolving overwhelm requires connecting with your body and feeling all of the sensations of overwhelm fully. As you feel them, they shift and dissolve. Consequently, you are able to return to your day calmer, more grounded, and with increased clarity and fresh perspective.
Simple; not easy.
Allowing yourself to fully feel overwhelm is one of the those things that falls into the category of 'simple but not easy.'
Owl Eyes is the key to feeling your way through overwhelm without becoming even more overwhelmed and ending up in a puddle on the floor. Owl Eyes provides a container that allows us to meet (or befriend) potentially overwhelming sensations and feelings gently and effectively.
Let's practice using Owl Eyes to dissolve overwhelm.
Step 1: take a baseline reading.
On a level of 0-10 (with 0 representing no pain/tension/discomfort and 10 representing extreme pain/tension), how much pain, tension or discomfort am I experiencing right now?
On a scale of 0-10, how overwhelmed do I feel right now?
How busy are my thoughts (with 0 representing a completely calm mind and 10 representing extreme mental activity)?
Step 2: listen to and follow along as I guide you through a process using Owl Eyes to peacefully resolve overwhelm.
Step 3: take a second baseline reading and reflect on your experience.
What do you notice now regarding your thoughts, your emotions and the sensations in your body?
Again, use the 0-10 scale and make a note of the level of tension/pain you feel in your body, your level of overwhelm now, and busyness of your thoughts.
Do you notice any differences between when you started the exercise and now? Please describe.
Use this recording anytime you feel overwhelmed, uncertain, ungrounded, or are experiencing difficulty making decisions or knowing what to do next.
Keep in mind:
Even though I'm offering this process specifically for when you feel overwhelmed, you don't need to be experiencing any particular level of distress to benefit from this exercise. You can use this approach (with or without the recording) throughout your day to keep yourself from becoming overwhelmed!
You may be wondering:
How long do I need to stay in Owl Eyes to receive the benefits you describe?
This is a matter of how much time you have and how deep you want to go. At times, just relaxing into Owl Eyes for a few moments is enough to shift my perspective, give me a sense of what I'm feeling or needing in the moment, and to know what my next step is.
The longer I stay in Owl Eyes, there are two things that tend to happen:
1)   I experience a deeper and deeper sense of connectivity and peace; and/or
2)   I gain more access to any feelings of overwhelm I have not acknowledged during the day. This might lead to a release of tension (tears, shaking, etc) followed by feeling more embodied and connected to myself.
How often should I practice Owl Eyes?
There is no one right way to use Owl Eyes. Using Owl Eyes only as crisis care (when you already feel overwhelmed) is fine.
The more you use Owl Eyes (both to process overwhelm AND as a self-nourishing tool), the more you will notice a corresponding relaxation in your body and mind. As you continue to practice Owl Eyes, the easier it will become, the more natural it will feel, and the quicker overwhelm will resolve.
Plus, with continued practice, you will notice less and less overwhelm in your daily life. You will discover a new baseline of calm, clarity, and gratitude.
How long do I need to stay in Owl Eyes to receive the benefits you describe?
This is a matter of how much time you have and how deep you want to go. At times, just relaxing into Owl Eyes for a few moments is enough to shift my perspective, give me a sense of what I'm feeling or needing in the moment, and to know what my next step is.
The longer I stay in Owl Eyes, there are two things that tend to happen:
1)   I experience a deeper and deeper sense of connectivity and peace; and/or
2)   I gain more access to any feelings of overwhelm I have not acknowledged during the day. This might lead to a release of tension (tears, shaking, etc) followed by feeling more embodied and connected to myself.
When I start to pay attention to what is happening in my body, all these emotions begin to surface. What's that all about?
Sometimes, when you turn your attention towards your body, you will experience a rush of relief, a deep sense of gratitude and perhaps even find yourself crying a little.
Surprisingly, this is a very common and normal reaction. The sense of relief and of your body saying 'thank you for listening to me' can be deep and profound.
Simply stay in Owl Eyes, continue noticing the tension in your body, noticing the emotions that are arising, and keep gently breathing. Very soon, the tears will dissipate. Your sense of overwhelm will be gone or lessened as well.
What if really big feelings surface?
Remember:  being overwhelmed feels so… overwhelming… because it is a combination of external pressures and internal feelings, thoughts, and sensations.
When overwhelmed, we aren't just feeling sad, for instance. We are likely feeling sad + angry + exhausted + insecure + afraid + + + (whatever your feelings might be).
When we take this time to slow down, connect with our bodies, and really feel everything, all of these emotions can make themselves known to us at once.
We might need to take time to allow tears to flow and to allow ourselves to shake as our nervous system releases tension and stress. These are all good, positive responses.
Gently stay in Owl Eyes and you will move through the emotions fairly swiftly.
What if I'm in a situation where it isn't appropriate to experience big feelings?
If you are in an environment or situation where it is not appropriate to have this kind of release, here are a couple of options:
Take note that you need to spend more time in Owl Eyes later and let your body (yourself) know now is not the time for a big release and return to your day. Later, when you are in a more appropriate setting, return to Owl Eyes and allow the feelings to flow.
Find a place where you can have some privacy for a few moments (a bathroom stall will work in a pinch) and allow the tears to flow, or the anger to surface (or whatever is up for you) before returning to your day.
Can I go straight into Owl Eyes without doing all the other stuff?
Yes! Shifting directly into Owl Eyes is a fast way to gain awareness and information regarding the state of your internal world. Staying in Owl Eyes will lead to the same benefits described above.
I like to orient to both my external environment and to my body as experienced in the audio recording because that creates additional resourcing and grounding for meeting overwhelming feelings and sensations. Play with both and see which approach works best for you!

Why the Medicine of Owl is so essential.
Practitioners from all walks of life (therapists, coaches, bodyworkers, yoga instructors, business advisors…) tell us to tune into our bodies, to practice mindfulness, to be self-aware, to feel our feelings, to witness vs react, to meet ourselves, to befriend our pain, our fear… Yikes!
And yet, very few people talk about how to do these things!
This 'not-knowing' how to do something that is talked about with such frequency leads to feelings of frustration, shame, helplessness, and resignation. It leads to just giving up, walking away, and continuing the same painful patterns that led us to seeking help in the first place.
If we do attempt to 'feel our feelings' without the help of a skill like Owl Eyes, it is normal to find ourselves completely overwhelmed by the intensity of our experience.
Having a tool that allows us to fully feel the sensations or challenging feelings while also remaining in a place of neutral witness (having space between our experience and ourselves) is crucial to the experience being one that allows for healing versus re-wounding.
"In order to heal an emotional wound, emotions must be able to "process through" until completion.
If we allow our emotions to come up over and over again without resolution, we are actually reactivating the wound and each time we do, it magnifies.

Healing requires resolution. This means feeling your emotions completely and not pushing them down or away. The healing comes when you allow your emotions space to be experienced until the process is complete. In order to allow emotions to "process through" you must get in your body.

Emotional wounds are stored in the body, and therefore the way to release them is by getting in your body and feeling your emotions until the process feels complete." – Nancy Ellis, How to Heal Emotional Trauma
Owl Eyes is the key.
Owl Eyes:
helps us connect with our bodies
creates a buffer (space) between us and difficult feelings/sensations in our bodies
provides a container within which we can meet whatever sensations are present in our bodies
brings us into the present moment in a safe, gentle way
helps us feel overwhelming feelings in a way that leads to true healing
gives us a simple, physical action (shifting from narrow vision to peripheral vision) that shifts our internal experience as well
I am a person who is very easily overwhelmed. When overwhelmed, Owl Eyes consistently helps me 1) safely drop into my body; and 2) fully feel all of the emotions, to befriend and process them, in a way that allows for true healing to occur.
Feeling is the way through. Using Owl Eyes and the audio recording here makes it easier.
The bigger picture.
I see so many people either in active pain or doing everything possible to avoid feeling pain – whether the pain is physical, emotional, or a vague sense of disquiet and unrest.
I want to live in a world where love rules, where pain is met with compassion and where people know and give their unique gifts to the world.
Owl Eyes brings me one step closer to this reality. It will do the same for you.
When we can truly meet ourselves (our pain, our fear, our grief, everything), where it lives, in our bodies, we become kinder, calmer, more grounded and more loving.
As we continue to use the Medicine of Owl, we discover deeper and deeper layers of healing.
Old wounds surface and dissolve, pain resolves, and we become more whole, more ourselves – more alive in our truest and deepest nature.
We begin to contribute our unique gifts to our families, to our communities, and to our Earth, in ways that ripple out into future generations.
Owl Eyes gives us a way to increase peace, perspective and connection in our daily lives. It gives us a way to reconnect to our Selves (to our bodies and Spirits) and to our true natures.
Owl Eyes supports our self-healing journeys, shifts our perspectives when we become stuck in repetitive or non-beneficial behaviors, and assists us in living our life purpose.
All of the above and more is true for me. I know it is true for you as well.
love,
larisa
1Bessel Van der Kolk, MD, The Body Keeps the Score
Going deeper.
Would you like to know how the Medicine of Owl fits into your ongoing practice of self-listening, self-nourishment and self-care? If so, the Sacred Self-Care Guidebook is the perfect next step. Through 10 lessons and 5 audio tracks, you will discover how deep self-care can be a path for immense healing, growth and transformation.
Conversely, while much healing can occur through working with Owl Eyes in this way or through the Sacred Self-Care Guidebook, there are times when more one-on-one support is needed.
If you:
discover strong emotions arising
encounter old, painful memories/sensations that you aren't quite ready to work with on your own
are in pain, going through a challenging transition, or in crisis
are ready to heal another layer of 'stuff' so you can be more fully present for your life, your family, your work/purpose
keep repeating the same painful pattern or non-beneficial behavior or
want support in your healing journey in general
Fill out this brief application and we will schedule a 30 minute complimentary consultation to determine if my healing work is a good fit for you.
Giving thanks and credit:
To Owl, I bow in gratitude. Your medicine inspires me, connects me, heals me. I am so grateful for your teachings and for your presence in my life. Thank you. A thousand thank yous.
I was introduced to Owl Eyes through Jon Young's brilliant naturalist training program, Kamana. Through a lot of playing with this skill, I discovered its unique ability to help meet and dissolve overwhelm and other challenging feelings. This is the application I share here.
This approach is also influenced greatly by the principles of Ortho-Bionomy, the trauma-resolution work of Peter Levine, author of Waking the Tiger, with additional perspective from the teachings of Malidoma Somé, African elder and shaman.
Photos by Lorijo Daniels. Owl scarf by Shovova.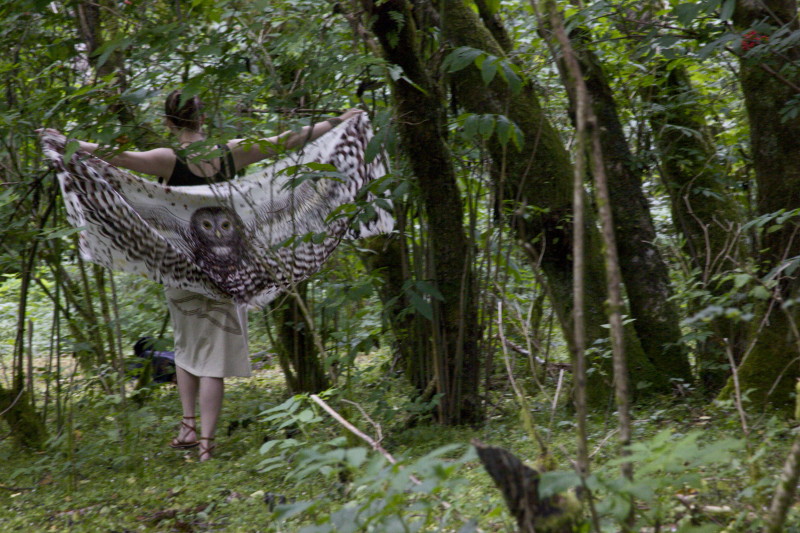 About Larisa.
As a healer and mind/body/spirit medicine women, I combine my Ortho-Bionomy (energy/trauma resolution work) background, nature awareness and deep listening skills, and earth honoring perspectives on working with the ancestors, nature, and ritual for healing with my own personal experiences to mentor, heal, and support you.
I believe in mind/body/spirit wholeness and that true healing comes when all levels are met with compassion, intelligence, and presence. With nearly a 1000 hours of training in Ortho-Bionomy, and hundreds more in gentle trauma resolution techniques, nature-based healing practices, and mindfulness skills, my passion is to help people deepen into a peaceful, healing relationship with their bodies, their Selves, their lineages, and the earth.
You can read more about me here.
Praise for my work: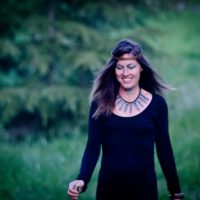 Larisa's gifts, I feel, are precisely the salve needed in this culture at this time. She holds a great deal of power with such gentleness. She is very grounded, rooted, present. She works with a great deal of compassion and empathy. A sweetness comes through her work, which is so soothing.
Larisa is very connected spiritually and also is able to translate that through in very practical ways. She is able to hold space in sessions, making way for a person's gifts to flourish. She's an extraordinary listener. I highly recommend Larisa. Working with Larisa brings about growth, healing, an increase of self love. Her medicine, I believe, is made of love.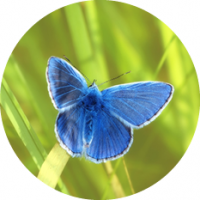 Over the past year my issues with depression and anxiety have gone from floods to an occasional sprinkle every now and then, thanks in large part to the work I've done with Larisa.
I can tell you firsthand that my commitment to my emotional well-being (despite costing time and money I thought I didn't have) has been an investment that has paid off tenfold for my business.
Plus, I now feel so much more stable and grounded (rather than like a light breeze could knock me down).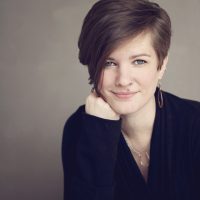 When I first worked with Larisa I was clouded with confusion. I was not sure what to expect, as I had never worked with a method like this before, and the results were incredibly useful. The process was fun, powerful, and unique.
I received important guidance and experienced immediate shifts in my life and work and highly recommend Larisa's powerful work to women looking for clarity in any area of life.
What makes her different than others is that she has a deep presence that is very comforting. I can feel that she is listening deeply. When I am around her, I don't feel the need to create small talk, I know I can simply speak my truth in that moment and it will be met. Plus, I really trust that she is tuned into nature and Spirit in a deep way and that is comforting as well.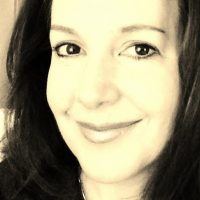 Your healing sessions are unique.
Primarily, I appreciate your truly holistic approach. The word "holistic" is thrown around a lot in the healing profession, but your work truly embodies it in the sense that you look at the whole picture, on each level: physical, emotional, mental, spiritual.
When you check in with me at the beginning of each session, I feel that you are deeply listening to what is up for me on each of those levels, and that you apply what you have heard directly to the work you do with me during the session.
I also appreciate your kind, compassionate nature. And, you have a breadth of knowledge in spiritual matters as well as physical that I admire.
After a session I feel calm, centered, and reconnected to my body.
The suggestions you offer for "homework" or things to do between sessions are always helpful and practical.
Since we have been working together — a year and a half now — I have come to some pivotal insights about my connection to my body and Spirit that have helped me to move through significant blocks in my own healing and issues with chronic pain.